Welcome to the Gleaves Family Website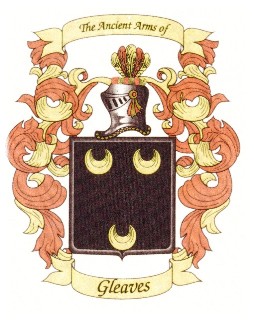 Our mission is to provide a platform to collect, communicate, document and preserve the history, heritage, and genealogical information associated with the Gleaves surname, any variants of the spelling, as well as others related by birth or marriage.

While we assist in research on all the various lines, our emphasis is on the descendants of Matthew Gleaves, who immigrated to America from Cambridgeshire, England in the mid Eighteenth Century.
Thank You Alice Hix
This Gleaves Family website is dedicated to the creator and original WebMaster, Alice Sampselle Hix. Alice was responsible for documenting this entire body of work with help from many Gleaves/Glaves descendants too numerous to list. The Gleaves/Glaves Cousins are now responsible for carrying Alice's legacy forward.

In tribute to Alice it is important to identify her line:

Anna Alice Sampselle (Anna Bob Rich, Anna Maria Gleaves, Charles Wythe, Samuel Crockett, James Turk, William Gleaves, Matthew Glaves, Sr.) was born 25 April 1947 in Staunton, Augusta County, Virginia.

To give the reader a sense of who Alice was as a loving caring person we are including passages from her obituary:

Anna Alice Sampselle Hix lost her battle with cancer on Tuesday, April 28, 2015, three days after her 68th birthday. Alice was born to Anna Bob Rich and James Vernon Sampselle Jr. in Staunton, Virginia. She spent the first eight years of her life at Trinity Point Manor farm in Swoope, Virginia, interrupted by a year in Hawaii when she was three. Alice moved to Virginia Beach for one year and then on to Newport News where she graduated from Warwick High School and The College of William and Mary in Williamsburg, Virginia. With a B.A. in Mathematics, Alice accepted a job with Arthur Andersen in New York City when the company was one of the Big Five accounting firms. After three years, Alice transferred to Atlanta, Georgia with Arthur Andersen and she said, "I feel like I am home."

Alice led a busy life those early years in Atlanta -- scuba diving with her dive club in Florida and the Caribbean, hiking the Grand Canyon, riding the trains in Mexico, sailing on her father's schooner in Bermuda, the Bahamas and the Virgin Islands, and traveling to Switzerland. Alice married Leslie Alvin Hix in May 1982 and their beloved daughter Anna Leslie Hix was born in November 1984.

Alice excelled at everything she undertook. She was a first class Girl Scout leader, seamstress, quilter, analyst and mother.

After 36 years as a software developer with Lithonia Lighting in Conyers, Georgia, Alice retired and was finally able to focus on her love of genealogy. Alice researched all branches of her family but she enjoyed focusing on the Riches and Gleaves the most. Scouring graveyards, websites and old photo albums became her passion. Everyone thought of Alice as the encyclopedia of all family information. "Ask Alice" was the mantra of our family.

Alice will always be remembered for her love of the Gleaves family and her desire to preserve the history in a website; and her diligence to see it become a reality!