At Last! TB Gleaves' Stone is Set
At Last! TB Gleaves' Stone is Set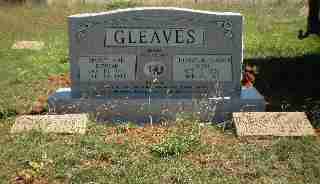 The front of the stone.
Click on the image for a larger view.
After visiting the Brookside Cemetery, Grimes, OK, during the 2010 Gleaves Reunion in Oklahoma and seeing the graves of Nancy Ann Burnham and Thomas Benjamin 'TB' 'Blunt' Gleaves, his descendants decided to place a marker to show their love for their fore bearers. Within 10 minutes the money was raised to pay for the marker. A descendant daughter, who was associated with a funeral home, took on the task of getting the stone made. On Tuesday, October 2, 2012 the stone was set in place behind the humble original markers. The front of the stone has Nancy and TB's dates, their picture and a list of their children. The back of the stone commemorates TB's first wife and their children.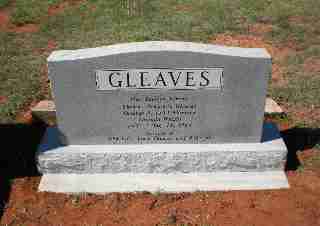 Back of Stone.
Click on image for a larger view.

The marker also includes an electronic 'chip' that can be scanned with a smartphone to display information about TB and his family on the phone. Unfortunately the area of the cemetery does not currently have wide cell coverage so the chip access is limited to available cell coverage.