February, 2014 Newslatter
February, 2014 Newslatter
Hope all of you Gleaves cousins have managed to stay warm this winter. Sure looking forward to the 70's, whenever that will be. I am posting some pictures of Grapevine, TX where our 2014 Gleaves Reunion will be held next October 8-11. I am sure looking forward to seeing all of you. Be sure to like us on Facebook @ Gleaves Family 2014 Reunion and check www.gleavesfamily.com for the latest updates. You may make hotel reservations with Melissa McCoy, Director of Sales, Comfort Inn, 301 Capitol St., Grapevine, TX 76051 phone 817-329-9300 at $89.00/night plus taxes. Again, they have a shuttle to & from the airport and shuttle around Grapevine so you shouldn't need rental car.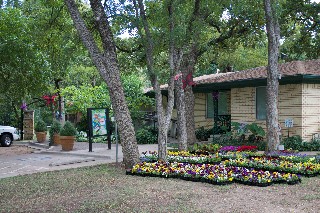 The first picture is of the Betsy Mitchell house where our meetings will be held. This sits to the front of the beautiful Heritage Park Botanical Gardens.
The others are of the Botanical Gardens that surround the house. It is such a beautiful area.
Along with Kim Gleaves Marin, we are still working on the final details of the reunion. Hope to have the final costs soon so that we can send out the registration forms.

Lee & Debbie Gleaves

(Clicking on each picture will open a larger image of the picture.)