The Gleaves and Finleys
The Finleys
This is a photo/sketch of James Washington Finley, son of Asa and Esther Finley, and a photo of Margaret Jane Campbell Finley. These are actually two separate photos that were edited and placed side by side. Mary Bingham Latta Finley wrote on the back of James Washington Finley's photo that it is Asa Finley's photo, but her daughter feels strongly it is of James Washington Finley instead.
In support of it possibly being Asa Finley the photo appears to be a sketch or a drawing rather than an actual photo when closely examined. Asa Finley lived until 1853 and photography was still fairly new. Since there is usually a resemblance between father and son, it is likely this is what they may have both looked like at that same age.
The daughter also said the suit looked to her like it was painted on and wondered if he was not wearing dress clothes and the photographer painted the suit and attached the head to the suit to dress him up a bit.
From the Gleaves Family Historian:
Let me offer my 2 cents regarding the portraits you attached. First, the detail leads me to believe this is a photograph and not a etching. I could be wrong here but let's assume I am correct.
As you may already know, the first photographic technique (the daguerreotype process) was invented in France in 1839 and Samuel Morse brought it to the United States the following year. Several studios sprung up in New York and Philadelphia. Not sure when photographers started moving westward but it would have to be after that date.
If this picture is of Asa, he would have been about 60 years of age in 1840. This man looks much younger. Esther died in 1839, so if this is actually Asa, the woman would be his second or third wife.
I am inclined to agree with the daughter that the portraits are of James and his wife Margaret.
Additional information on Esther Gleaves and Asa Finley
1. Together they helped found the Salt Fork Cumberland Presbyterian Church and in the early days they used to take turns meeting in church members homes until they built the church. An article was written by Mrs. Edna McGuire in 1920
2. Asa Finley was elected as the first Judge of Arrow Rock, Missouri in 1824. This can be confirmed in Saline and or Cooper County records. Saline was made out of Cooper, but not sure what year.....It may have been before 1822.
3. Asa Finley was elected two times as the Representative from Saline County to the Missouri State Legislature in 1822 and again in 1824. A link to the state website of those who have served in Missouri.
Asa William Finley
Asa William Finley was the son of Asa Wallace Finley and Sarah Campbell. (Sarah Campbell was the sister of Margaret Jane Campbell who married James Washington Finley. James and Asa Wallace were brothers and both sons of Asa Finley and Esther Gleaves.). Click here for an article about this family.
Four generations of Finley Men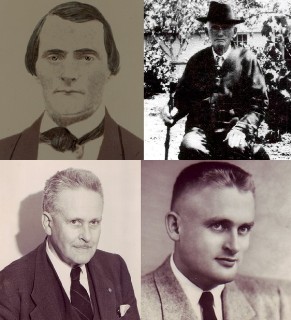 Upper left: James Washington Finley
Upper right: Newton Gleaves Finley (Was 10 when they went west in 1852)
Lower left: Dozier Finley
Low
er right: William Latta Finley