Sam Gleaves and His Music
Sam Gleaves and His Music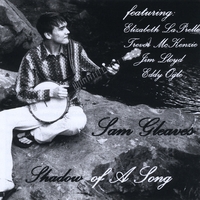 (click on album cover to see front and back)
The world is now filled with beautiful Appalachian music with the NEW CD of SAM GLEAVES. Sam Gleaves is the grandson of James Lucian Gleaves III, retired attorney in Wytheville, Virginia.
Sam Gleaves, currently seventeen years old, is a folksinger from the Blue Ridge Mountains of Southwest Virginia. Inspired by his maternal grandmother's singing, he began to sing and independently develop his voice at an early age without the benefit of voice lessons. At the age of twelve, he received his first guitar and began to teach himself to play. Shortly afterward, he began to giv3e concerts to friends and family and at community gatherings. He learned to play the five string banjo in the old clawhammer style. From there he began to venture out into the world of traditional instruments quickly picking up the autoharp and mountain dulcimer. His singing and playing meld to form a startling combination, where tradition and innovation meet to render a chilling beauty. He now teaches guitar and elementary voice to a select few talented student musicians ranging from the ago of six to sixty. He makes his home in his birthplace of Wytheville, Virginia and plans to study music education to hand the music down.
The name of his CD is SHADOW OF A SONG!
By purchasing this CD, we will encourage and totally enjoy the talent of this young man. He showcases music that was played by early Americans in the Appalachian Region and beyond.
Webpage that includes performance dates, streaming music, links to buy CD and other information.
To order Sam's Music - for online CD orders or MP3 downloads