GLEAVES, Marilyn Lucille McBride died November 11, 2013
GLEAVES, Marilyn Lucille McBride died November 11, 2013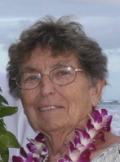 Marilyn Lucille McBride Gleaves
Jan 25, 1930 - Nov 11, 2013

Marilyn lived an amazing life. She was a determined, independent woman.

She leaves a legacy of family including her chidren: Barbara Fulton, Troutdale OR, Fred Gleaves, Marietta GA, Beverly Jones, Gresham OR, Bernice Hendrix, Ceres CA, Leslie Gleaves, Roseville Ca, Leroy Gleaves, Phoenix Az, and Lloyd Gleaves, Ceres CA.
Her siblings: Fredrick McBride (deceased), Robert McBride (deceased), Donald McBride, Modesto CA, Marlene Tobler, Ceres CA, Richard McBride, Ceres CA and Patricia Dickerson, Modesto CA.
Also, 18 Grandchildren and 18 Great-Grandchildren.

She graduated from Ceres High School in 1947 and from Modesto Junior College in 1971 with an Associate degree in biological sciences. She worked as a lab technician for Valchris Poultry 1966-1969. Then for the City of Modesto from 1969-1989.

Marilyn was a pioneer for women in the workplace for the City of Modesto. The first female lab technician 1969-1974; first female waste inspector 1974-1981; first female water systems inspector 1981-1984; first female industrial waste inspector 1984-1989.

Marilyn was very active in the Northern San Joaquin Section, California Water Pollution Control Association (CWPCA) - director 1971-1972; vice president 1973; president 1974; Northern Regional Committee, CWPCA, chair, 1977-1979; CWPCA Board of Directors, 1979-1982; Mid-Valley Water Utilities Association, Secretary-Treasurer, 1986-1987; She was also active with Toastmistresses; and as a Docent with Great Valley Museum.

Graveside services will be at 11am, Thursday, Nov 21, at St. Stanislaus Cemetery, Scenic Dr Modesto. A Celebration of Life wil be at 12:30 pm at the Ceres Community Center 2701 4th Street, Ceres, CA.
Donations in Marilyn's memory can be made to your local Hospice or Alzheimers Organization.
Published in the Modesto Bee from Nov. 17 to Nov. 20, 2013